We are Santander: Recruitment Services Assistant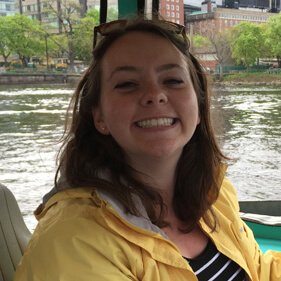 Where did you work before you began at Santander?
Before I came to Santander I worked as an HR Assistant at a small insurance company in Charleston, SC. I supported all facets of HR including recruiting, training, benefits, compensation, and payroll, and coordinated and planned several large corporate events. I moved back home to Boston in January 2014 and have been with Santander since!
Tell us a little bit about what you do at Santander?
I am a Recruiting Assistant supporting the Retail Team. I support five recruiters in generating offer letters, tracking background checks, scheduling interviews, fielding questions from new hires, and everything in between! Above all, my goal is to ensure that all new hires have a positive experience when joining the bank, and I am to make the process as seamless as possible.
What do you love about your job? What do you look forward to everyday?
I love that my job is fast-paced and that I never know what is coming at me next. I come into work in the morning with a to-do list, knowing that priorities may be shifting and that I may have to put some fires out throughout the day – but that's the fun part! I also love to talk to people and I spend the majority of my day on the phone with new hires. Starting a new job can be extremely stressful and it is great to be able to relieve some of their stress and continue to excite them about the new opportunity.