MEGHAN'S SANTANDER STEPS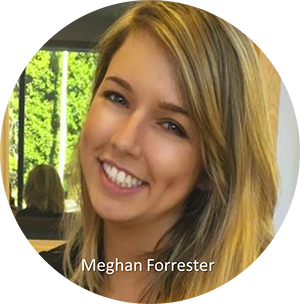 2015 - Retail Banking Teller
What's the first thing people think of when they think of working at a bank? Probably being the person at the window that customers come to when they need to make a transaction. Well, that's exactly where Meghan started. Hers was the smiling face and great guidance everyone sought when they arrived at the branch to do some banking.
"As a Retail Banking Teller, I gained a better understanding of how to deliver world-class customer service – and how to listen to and interact with a sincere and empathetic attitude."
2015 - Personal Banking Representative
Quarterly goals? Meghan blew past them in this position. She handled her daily activities of maintaining and elevating customer relationships and promoting Santander products with aplomb.
"This position prepared me for the future by teaching me how to work closely with my partners to better understand how we can help customers. I also received coaching sessions to work on my outbound calling skills."
2017 - Relationship Banker
It became all about relationships at this stage of Meghan's career. Strong partnerships? She made them with customers, helping them grow their accounts and their knowledge by connecting them with all of the amazing products we have to offer. She also took the first steps to unleashing her leadership capabilities and growing them through practice.
"This position has been all about taking initiative and being a leader for my team. From motivating Tellers to helping customers get the products and services they need, every day is a chance to jump-start my career."