WE ARE SANTANDER: HR DATA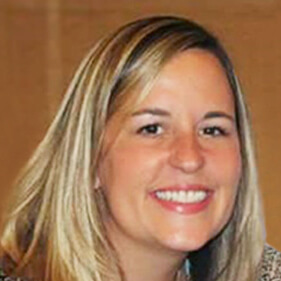 Where did you work before you began at Santander?
I started at the bank in 2002 – 1 year after I was graduated from college. Prior to my career here, I worked odd jobs; Office Manager at Outback Steakhouse, Account Manager for an Internet startup company, and was a server at a local brew house all throughout college during the summer and on breaks.
Why did you apply to Santander?
I was referred by a family member.
Tell us a little bit about what you do at Santander?
I started working in the Mortgage Servicing area of the bank in 2002 – Over the years, I moved around, and eventually into Human Resources in 2006. I began my career in Data Management in 2011. I consult with HR and business line clients to document requests and interface with IT and manage system change initiatives to completion. I also maintain all of the periodic reporting that my team distributes. I work with HR Business Partners and line management in utilizing HR data and/or systems. I am responsible to ensure data changes in core HRMS are processed accurately.
How do you think Santander is different from the competition?
I think that Santander as a whole is very different from other banks in that we are consistently striving to enhance our products for our customers. We've made ourselves major competition for the other big name banks, and I haven't seen any other banks rise as much as we have.
What do you love about your job? What do you look forward to everyday?
I love everything about my job. I love the people I work with, and I love being a data geek. I thrive in fast-paced environments and I enjoy the fact that there is rarely a boring moment in the office.
If you had to refer a friend or colleague for position – what do you say first about Santander to convince them to join?
I just told a friend the other day, "You need to apply at Santander – it's truly a great place to work."
Second?
"We have excellent benefits"
Third?
"We're international – run by some of the smartest businesspeople in the world."
Pillars: Personal. Simple. Fair. How does this mantra fit into your work life?
The "Personal. Simple. Fair." Mantra applies to my job every day. When I collaborate with other people/teams, it is important to create a sense of trust that the data I provide is accurate. To do that, I have to ensure that I personalize their experience with me. When working with complex data, it's imperative to simplify not only the data, but sometimes the requests I receive. In order to be fair to everyone I come into contact with, I have to make sure I'm not giving one area reports that I wouldn't give another area.