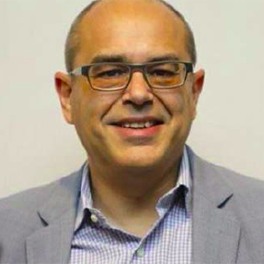 Five Minutes with Adrian Garrido
Chief Audit Executive Adrian Garrido talks about the important role of his department at Santander and how he wants his team to grow and develop.
What do you do at Santander?
I'm the head of Internal Audit (also known as the Chief Audit Executive) for Santander US, reporting to the SHUSA Audit Committee. The technical definition of Internal Audit is "an independent, objective assurance and consulting activity designed to add value and improve an organization's operations and the effectiveness of its risk management, control and governance processes". In simple words, our goal is to identify areas that need improvement and propose solutions that make us a stronger, safer and better company.
What's your favorite part of working here?
I love the fact that this is a challenging and diverse workplace. We are immersed in a transformation process and that brings great challenges and a certain level of stress, but at the same time it is very rewarding to see how our efforts make a real difference and are helping to shape the future of the company. I also enjoy working in a diverse environment where every day I have the opportunity to learn from great professionals with very different backgrounds.
What are the challenges your teams face?
Our main challenge is to attract and retain the best talent. Because our work covers the entire company, Internal Audit requires highly skilled professionals with a solid knowledge of all our businesses and processes. At the same time, our auditors need to be flexible and have strong analytical, interpersonal and communication skills. Finding and keeping engaged people with all these qualities is not easy, and we are working with our HR partners to continue improving our talent management practices. Our goal is to make Internal Audit a great place to grow a career and a key source for talent for the rest of Santander.
What are the opportunities within your group?
Audit comes from the Latin "audire," to listen. Our biggest opportunity is to spend more time listening to the priorities and needs of our stakeholders, especially our colleagues. Understanding the business, risks and controls as well as the strategic direction is essential in order to focus our efforts in the areas where we can add more value. Internal Audit also has customers – including the areas we audit, and the first rule of a good service is: understand your customer.
What is the best piece of advice you've received?
One of my former bosses, a person that had achieved tremendous professional success, once told me when talking about career planning, "I never planned my career. I always just put all my energy into the work in front of me, and my career grew from there."
What's your perfect day?
My perfect day is any day with my wife and my children, maybe visiting one of the many beautiful places around this country or discovering a new neighborhood here in Boston.
A perfect day at work is when I feel that Internal Audit's work has made a contribution to the improvement of the organization and my team is engaged and motivated. And of course, a perfect day always ends with a good dinner.