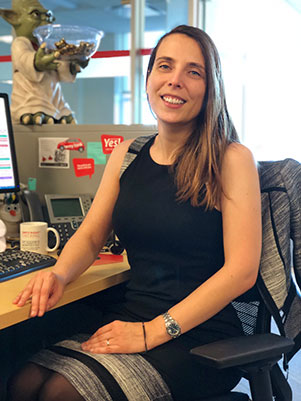 Take the Lead as an IT Professional with Us
For Carmen Dueñas the opportunity to make a direct impact on fellow employees and customers through technology is one thing she's very passionate about. As a Home Loans IT Program Manager with Santander, she's had the unique chance to work with an innovative team of IT professionals dedicated to making the customer banking experience as seamless as possible.
"We're implementing a lot of the cool systems and tools that I believe will really make a difference as far as customers and the lives of our employees," she says. "We're changing things, we're trying to make things better."
After interviewing to join our Columbus Park team, Carmen took part in what she calls a "smooth" onboarding process before officially joining us in January 2015. Since then, she has continued to learn and grow in her career through our unique training sessions and initiatives like town halls, which open up a direct dialogue between CEO Scott Powell and employees.
We've We've got lynda.com, a site that has video trainings. We also have e-training," she explains, adding, "there have been quite a few town halls lately where even the CEO has gone around and explained things. There's a lot more opportunity to hear their thoughts firsthand."
While Carmen finds these structured trainings to be beneficial, she admits that what she appreciates most is the chance to learn through hands-on experience.
"What I like the most is the on-the-job stuff. I like the fact that every day is different, so it's never boring. I like having the flexibility my managers have always given me, and it's been great to be able to choose how to do things, having enough reign to do my own thing. That has been something I have consistently found to be the best part of working here."
Within her role, she works with the business line, the client and the customer, which requires her to act as what she describes as a "one-stop-shop" who has to be readily available to adapt to whatever comes her way. It's a challenge that she welcomes, and with the help of her hardworking team, she continues to make an impact on the company every day.
"We're doing things differently than how they have traditionally been done in Santander," she says. "That's something that in a certain way is innovation. You say, ok, what's the best way to do this? What's the best way to approach that problem? That, to me, is one of the most rewarding parts of the job. When you say, 'ok that's broken, let's fix it now.'"
Are you passionate about making an impact through IT? Join a team of hardworking professionals like Carmen and become a part of the Santander information technologies team today! Explore our openings.