Making an Impact through IT at Santander
Have you ever wondered what it's like to work in the technology headquarters of Santander Bank? Are you curious about the career opportunities available within a one-of-a-kind organization like ours? We sat down with Kate O'Connell, former contractor and now IT System Plan Manager for Santander in our technology headquarters in Dorchester, MA, to find out the answers to all these questions and more. See what she had to say and what she loves most about working with us.
What was your initial application and interview process with Santander like?
Our interview process typically consists of phone interviews first, just to make sure we're on the same page, and it starts to progress. If the person is located near one of our locations we try to get an in-person interview with them, and we try to have at least three people interview them — we typically will stagger half-hour interviews. That's typically it unless it's a senior role, in which case they may need to be interviewed by our CTO, Dan Griffiths.
What was the onboarding like? Was it effective?
We always start on a Monday and we go through corporate training that provides some basics around functionality and processes here at the bank. The initial training isn't really job-specific, it's more just what it means to work with Santander: how to log your time, how to get your benefits, things like that. Next we'll get passed off to whoever our reporting manager is. That manager will usually spend a little time, get to know us, get us acclimated to our computers and seats, and get us started on online training that's mandatory for bank employees.
What are some ways that you are growing your career on a day-to-day basis? Is there ongoing training involved?
We offer things like management classes and interviewing classes; there are lots of opportunities in that space. There's also organized online training. We have both mandatory as well as optional training that can be done online.
Can you walk me through what a typical day is like for you from the time you clock in to the time you leave?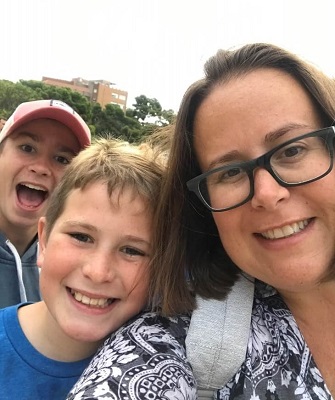 I'm on point for managing budget; I'm on point for managing any risk or audit items that come through. I am involved in hiring. I manage projects and make sure we follow project methodologies for enterprise management. So, my role is odd. I have four people that report to me, and we're governance for commercial banking, global corporate banking, technology projects, and the technology run. My day is never the same. Every day is different for me.
What are some opportunities that you've had to be a leader within your position?
I think there's an opportunity for anyone who wants to be a leader here at Santander. There are also opportunities for people who would like to be a doer, a task person, but I think if you have the initiative, and one of your goals is to become a manager/leader, there are plenty of opportunities. In technology, we're in quite a period of change right now, so there are lots of opportunities to show that you can lead something. Because we are going through so much change, and maturing a lot as an organization, everywhere you turn there's an opportunity for you to really own a task, own a process, own a program, and show that you have the ability to take responsibility and accountability for something.
What is the culture like within your department? Are you close with your team members?
On an organizational level, we are trying to do things to encourage teamwork and spotlight people. We even had summer events and went to a recreation center where we had a barbecue. I'm actually part of a committee [whose] purpose is to understand employee satisfaction, how we treat our employees, and how we do things to support them and make their workday better. I think there's a lot of effort at a corporate level to make sure employees are getting what they need to do their job, as well as just being happy here.
There are quarterly activities that we do to socialize with our team members. Dan does town halls every quarter where he provides us really honest and up-to-date feedback on where things are. He also runs a monthly management meeting with his managers to kind of give them an idea of where things are.
What do you love most about what you do?
I think the ability to actually have impact and really make change is what I like the most. I'm not someone who enjoys sitting still, so the role I'm in allows me to constantly have an impact on how technology is run in our team, and how our team is effective, so that's really what I like the most.
If you're interested in joining an organization that's growing fast and abounding in opportunity, explore opportunities in Information Technology at Santander today.